The English Playing Card Society
The English Playing Card Society was founded in 1984 by Peter Way and Major R.T. Donald Welsh.
The purpose of the Society is to bring together collectors, researchers, manufacturers, museums and libraries, and all persons interested who wish to increase their knowledge of English playing cards and card games, their makers and designers. An informative, well illustrated and readable newsletter is published three times a year together with details of meetings, new publications, recent discoveries and regular updates.
Read The Constitution
Latest Update from the Secretary
Worldwide Digital £10, UK £21, Europe £25, Worldwide £29
The EPCS PayPal account is: [email protected] and my address for cheques is still the same. For those without a PayPal Account I can send a PayPal Invoice that can easily be paid using any credit card; just let me know. Also, ask me for online account details for transfers if required. Join online using our interactive form.
The next EPCS Meeting venue and date in 2023 has yet to be decided.
The Newsletter
The Society publishes a 30+ page A4 Magazine (including colour plates) which is free to members. This is dispatched three times a year and builds up into a reference source, with an index, containing information which is not readily available through any other source. Members are invited to contribute articles to the Newsletter. Click here to read a sample newsletter.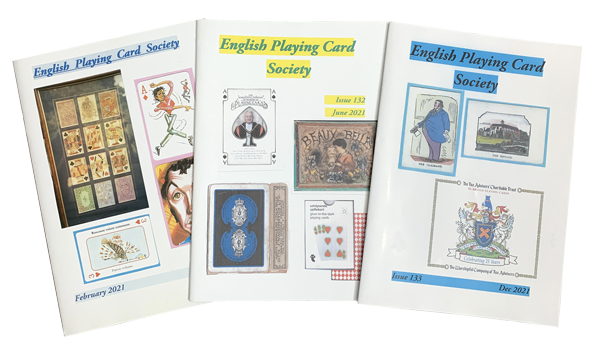 Information
Articles & Resources from the EPCS
Meetings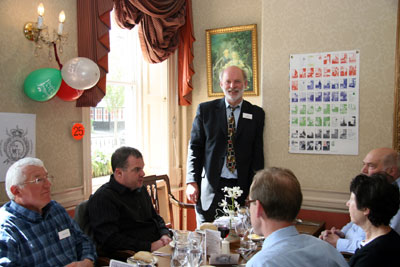 The Society usually holds two meetings each year, a golden opportunity for exchanging and buying cards, as well as a social occasion. A talk is usually given on an interesting topic relating to playing cards, and refreshments are available.

See photographs of the 25th Anniversary AGM held in Pratts Hotel, Bath, 2009. Click here to see photo of the meeting at Milton Keynes… photo 2.
The Society Motif & Logo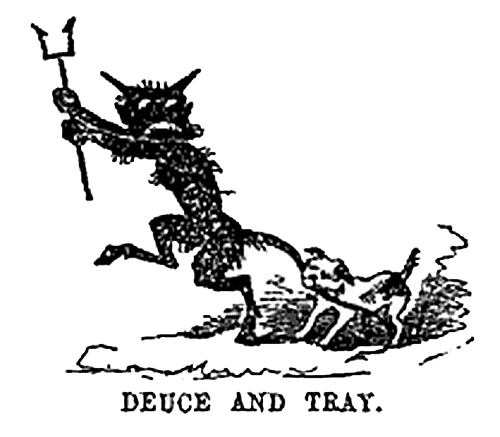 The Society Motif (top left)
is from
"The History of Playing Cards"
by Rev. E.S. Taylor (1865). On page 238 there is a picture of the dog and the devil entitled 'Deuce and Tray'. An Ace of Spades symbol has been added to complete a representation of the first three cards in a standard pack: ace, deuce and three. The Ace and Deuce need no explanation. The dog 'Tray' is phonetically similar to 'tres' or 'three'.
The E.P.C.S. Logo
The E.P.C.S. Logo is based on the 'Garter' Ace of Spades and incorporates the motif in the centre.
E.P.C.S. Committee Members

Chairman:

John Sings

Hon. Secretary:

Barney Townshend
Little Paddock
Charlton Adam
Somerton
Somerset TA11 7BG
U.K.

[email protected]

Hon. Treasurer:

As above

[email protected]

Newsletter Editor:

Julian Shilton

[email protected]

Committee Member:

Ann Smith

Committee Member:

Don Woolnough

Webmaster:

Adam Wintle

[email protected]
Articles & Resources from the EPCS
Articles & Resources from the EPCS
Social Media
We now have Facebook and Twitter pages. We invite you to visit our Social Media pages.
Follow our social media for updates, and perhaps Like or share our pages too. We would like to spread knowledge of The English Playing Card Society as widely as we can.
---